During the past 20 years, many things have helped mold college football into the game that it is today. Near the top of that list is the increased importance of the kicking game.
It used to be that place-kickers were local, non-scholarship athletes who made good. Now, top high school and prep kickers are as highly recruited as some quarterbacks and wide receivers.
With national championships often won or lost on one swing of the leg, the importance of having a top kicker cannot be understated.
The Lou Groza Collegiate Place-Kicker Award annually recognizes college football's top place-kicker.
Georgia Kicker Rodrigo Blankenship Wins The Lou Groza Award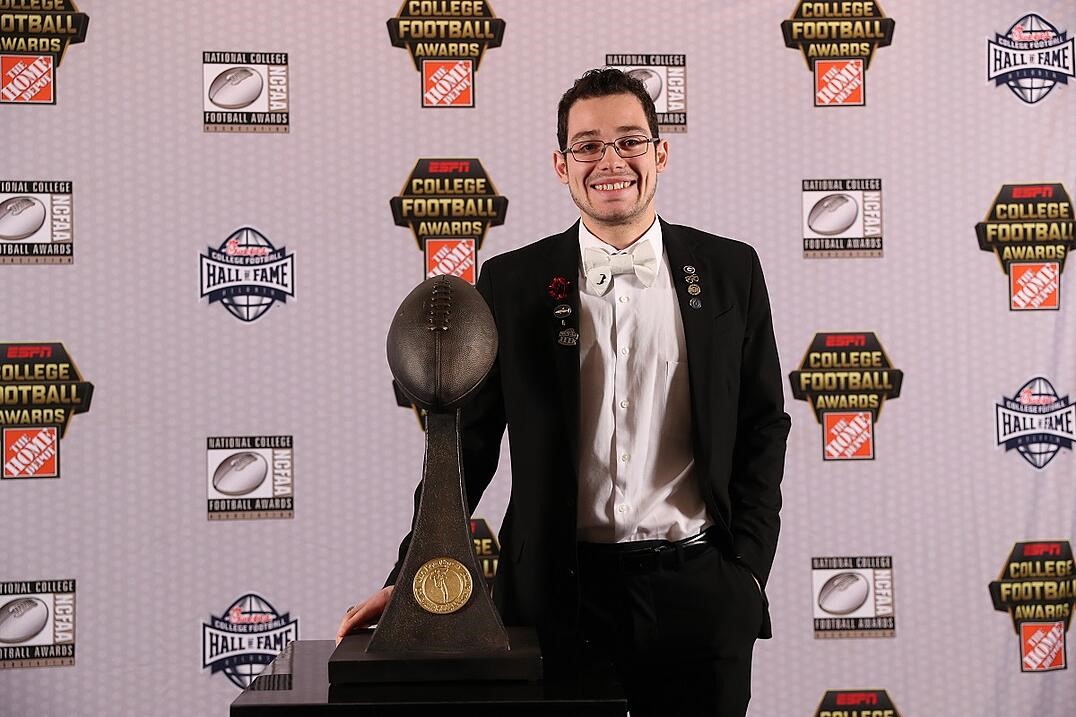 WEST PALM BEACH, FLA. – During Thursday night's live Home Depot College Football Awards, the Palm Beach County Sports Commission announced University of Georgia senior, Rodrigo Blankenship, as the winner of the 2019 Lou Groza Collegiate Place-Kicker Award. Originating in Palm Beach County, Florida, and created by its Sports Commission, the Lou Groza Award, presented by the Orange Bowl, recognizes the most outstanding kicker in college football.
Blankenship, a former walk-on, adds another accolade to his impressive career at Georgia after topping fellow finalists Keith Duncan (Iowa) and  Blake Mazza (Washington State.) He is the first Bulldog to win the prestigious award as the nation's best place-kicker.
Blankenship, a native of Marietta, Ga., was the SEC's second leading scorer in 2019 as he connected on 25-of-31 field goal attempts and all 198 of his career PATs. Blankenship helped UGA to an 11-2 record with three 50-yard field goals this season. He finishes his career in Athens with 432 points, a school-best mark that ranks second all-time in SEC history.
The national panel of voters that selected the Lou Groza Award winner is comprised of FBS head coaches, SIDs, media members, former Groza finalists, and current NFL kickers. A fan vote was also used in consideration for the award.
Since the first Lou Groza Award was handed out in 1992, 26 finalists, including 14 winners, have gone on to appear in the NFL, earning 10 trips to the Pro Bowl and taking home six Super Bowls.
The Lou Groza Award is a member of the National College Football Awards Association (NCFAA), which encompasses the most prestigious awards in college football. Founded in 1997, the NCFAA and its 25 awards now boasts over 800 recipients dating back to 1935.
VOTING NOW CLOSED. Thank you to everyone who participated this year!
 The finalist who receives the greatest total of fan votes will be given one vote on the final ballot. Votes will only count if recieved by 11:59 PM December 5, 2019.  
Photos from last year's banquet!
| | |
| --- | --- |
| | |
| | |
| | |
| | |
| | |
| | |
| | |
| | |
| | |