2020 Top 3 Finalists
Lou Groza National Collegiate Place-Kicker Award 
Announces 2020 Top 3 Finalists
As of 11:59 PM EST on 12/30/20 Jake Oldroyd had the most Fan Votes and will be given one extra vote on the final ballot count. Poll has ended. 
Thank you to everyone who participated this year!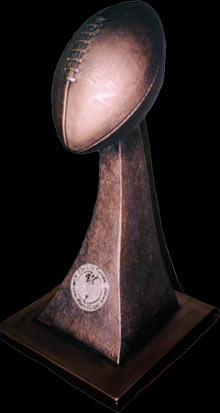 Lou Groza Award Announces Final Three
WEST PALM BEACH — The national panel of college football experts assembled by the Palm Beach County Sports Commission has selected the three finalists for the 29th Lou Groza Collegiate Place-Kicker Award. Jose Borregales of Miami (FL), Jake Oldroyd of BYU, and Will Reichard of Alabama will vie for the honor.

Borregales, a senior from Miami, Florida, transferred to the Hurricanes ahead of this season and gave them one of the best years in program history. At 18-for-20 on field goals, his 90.0% accuracy rate is tied for the best in the nation among kickers with at least 20 attempts. His 8 field goals from at least 40 yards out are tied for 4th in the country and includes a 57-yard bomb that came as part of a 4-for-4 FG, 17-point performance on the road against Louisville. Combined with his totals at FIU, Borregales is third in the nation among active kickers with 68 career field goals.

Oldroyd, a sophomore from Southlake, Texas, finished the year a perfect 13-for-13 on field goals, the most by an FBS kicker without a miss this season. More than half of those kicks came from at least 40 yards out, including three from over 50. That gives him more 50-yard FGs in a perfect season than any FBS kicker since at least 2004. He made the first 73 extra point attempts of his career, setting the all-time BYU record for consecutive PATs, before a blocked attempt broke his streak.

Reichard, a sophomore from Hoover, Alabama, has attempted 85 kicks this season and made every one of them. Going 12-for-12 on field goals and 73-for-73 on extra points, his 85 total attempts are the most in FBS history by a kicker who stayed perfect on the year. Though Alabama's high-powered offense meant three games without a field goal attempt, he still scored double-digit points in seven games on his way to a 109-point season that ranks second in the country.
This year, fans can have their part in naming the winner of the Lou Groza Award.  Fans can visit www.lougrozaaward.com and cast a vote for their favorite of the three finalists selected by the national panel of voters. The finalist who receives the greatest total of fan votes will be given one vote on the final ballot. One vote can make a difference in the final outcome so fans are encouraged to participate. 
The three finalists will be honored at the 29th Annual Lou Groza Collegiate Place-Kicker Awards Virtual Awards Celebration, streamed live on January 4th on lougrozaaward.com. This year's Lou Groza Award winner will be announced live on ESPN at the Home Depot College Football Awards Show on Thursday, January 7th. For more information on the Lou Groza Award and the Palm Beach County Sports Commission, visit www.palmbeachsports.com.
Since the first Lou Groza Award was handed out in 1992, 28 finalists, including 16 winners, have gone on to appear in the NFL, earning 10 trips to the Pro Bowl and taking home six Super Bowls. That list includes 2020 NFL kickers Dan Bailey, Rodrigo Blankenship, Randy Bullock, Daniel Carlson, Mason Crosby, Jake Elliott, Ka'imi Fairbairn, Kai Forbath, Graham Gano, Matt Gay, Zane Gonzalez, Dustin Hopkins, Younghoe Koo, and Cairo Santos.
The Lou Groza Award is a member of the National College Football Awards Association (NCFAA), which encompasses the most prestigious awards in college football. Founded in 1997, the NCFAA and its 25 awards now boast over 800 recipients, dating to 1935. Visit ncfaa.org to learn more about the association.
About Palm Beach County Sports Commission
The Palm Beach County Sports Commission is a private, not-for-profit organization contracted by Palm Beach County to promote and market the County as a sports and sports tourism destination. The Commission brings sporting events and activities to the County, enhances economic impact, stimulates bed tax revenues (primarily in the off-season), and maximizes utilization of County facilities. The Commission offers a full range of event service support, corporate partnerships, sponsorships and a local membership program that support its goals. Local, regional, national and international marketing efforts are ongoing by the Commission with sports organizations and event owners. The Commission also produces sports-related programs for the residents of Palm Beach County including the annual Lou Groza Award program, the Palm Beach County Sports Hall of Fame and the Kids Fitness Festival of the Palm Beaches. For more information on the Palm Beach County Sports Commission, go to www.palmbeachsports.com
For more information regarding the Lou Groza Collegiate Place-Kicker Award, please visit LouGrozaAward.com, or follow @LouGrozaAward on Twitter for updates as they happen.  Additional information can be obtained by contacting Jared Fleet at (561) 233-3120 or JFleet@palmbeachsports.com.